Published May 2011
Book:
Widows and Half Widows
Saga of extra-judicial arrests and killings in Kashmir

by Afsana Rashid
192 pp / PB
Rs 200 / USD 13
ISBN-10: 81-7221-048-5
ISBN-13: 978-81-7221-048-9
Size 8.5 x 4.5 / Non-fiction / Kashmir / Human Rights / India

PUBLISHERS
Pharos Media & Publishing Pvt Ltd
D-84 Abul Fazl Enclave - I
Jamia Nagar, New Delhi-110 025, India
Tel. +91-11-26947483
Email: books@pharosmedia.com
Website: www.pharosmedia.com

About the Book
This book is about women who even after years of the disappearance of their husbands, sons and fathers are still on a daily search for their loved ones while trying to discover their own identity ó are they widows or not widows.

Apart from economic hardships, they have been alienated by family, society and government.

Documenting their mental agony and trauma was never an easy task. This book compiles their tragedies in order to give a voice to the voiceless. Courts have failed them, successive governments have brushed aside their suffering, society has adopted an indifferent attitude and there are those who earn out of the indigence of these women.

About the Author
Afsana Rashid Bhat is a Srinagar-based journalist. Covering social and political affairs, her reports have been widely acclaimed. She has been awarded a number of fellowships and awards. She has been to Cardiff, London, Amsterdam and Kathmandu and has attended many workshops, seminars and conventions in India and abroad. She received her masterís degree in Mass Communication and Journalism from University of Kashmir (2000-01) and post-graduate diploma in rural development, IGNOU (1999).

She has also worked as research investigator for various projects conducted by Directorate of Adult Education, Union Ministry of Human Resource Development, Centre for Adult Continuing and Extension Centre, University of Kashmir and Radio Kashmir-Jammu. She has worked as lecturer in Mass Communications and Video Production at Government Degree College Baramulla, Kashmir.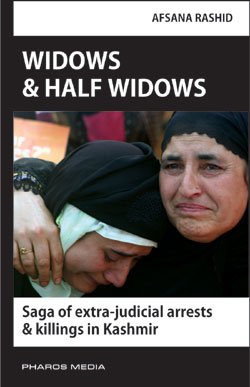 How to order
1. Buy online securely using:
- Credit Cards
- Debit Cards
- Net Banking - (All Major Indian Banks)
- Itz Cash cards
- PayMate - Mobile payments


2. or buy offline by
- Sending us a Cheque, Demand Draft or Money Order.
- by dropping a cheque at any HDFC Bank ATM across India (email us for our account details) books@pharosmedia.com
Availability: Usually ships the next business day.
Note: Airmail takes 15 to 21 days
We Accept