Published January 2010;
Reprint November 2011
7th Revised and Enlarged edition: March 2014
Reprint August 2015
Know the RSS
Based on Rashtriya Swayamsevak Sangh documents

by Shamsul Islam

Price: Rs 70 + Regd Postage Rs 15
Pages: 64 / Paperback
ISBN-10: 81-7221-071-X
ISBN-13: 978-81-7221-071-7

Rashtriya Swayamsevak Sangh unveiled in simple questions and answers
What the Rashtriya Swayamsevak Sangh is all about?
All that you would ever want to know about the Rashtriya Swayamsevak Sangh
A simple guide to the past and present of Rashtriya Swayamsevak Sangh
What Sangh Parivar Stands for?

Seventh Edition, 2014
(Earlier editions published as Know the RSS)

PUBLISHERS
Pharos Media & Publishing Pvt Ltd
D-84 Abul Fazl Enclave - I
Jamia Nagar, New Delhi-110 025, India
Tel. +91-11-26947483
Email: books@pharosmedia.com
Website: www.pharosmedia.com

Table of Contents
Introduction
Is it true that the RSS idolizes fascism Hitler?
Is RSS loyal to National Flag?
Is RSS loyal to Constitution of India?
Does RSS have faith in Democracy, Secularism and Federalism?
Why was RSS banned after the murder of Gandhiji?
Did RSS support the Freedom Movement?
Does RSS respect martyrs of the Freedom Movement like Bhagat Singh and others?
How does non-political RSS manipulate national politics?
Is BJP independent of RSS?
Is RSS helping organizations like ISI?
Does RSS believe in Two-Nation Theory like pre-Partition Muslim League?
Some earlier editions were published as RSS Primer and they carried ISBN-10: 81-7221-039-6
ISBN-13: 978-81-7221-039-7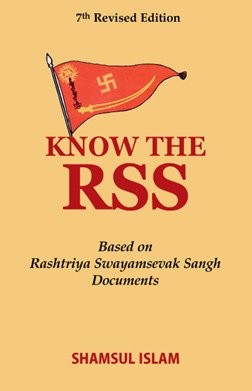 How to order
1. Buy online securely using:
- Credit Cards
- Debit Cards
- Net Banking - (All Major Indian Banks)
- Itz Cash cards
- PayMate - Mobile payments


2. or buy offline by
- Sending us a Cheque, Demand Draft or Money Order.
- by dropping a cheque at any HDFC Bank ATM across India (email us for our account details) books@pharosmedia.com
Availability: Usually ships the next business day.
Note: Airmail takes 15 to 21 days
We Accept